What is TikTok? And should your brand be creating content for the highly addictive video platform?
As marketers, we need to be aware of every trend coming our way, so we can build better campaigns and stay on top of the competition. Many marketing trends today have staying power and while others may grow outdated and become replaced by other techniques over time, it's our job to continuously check the statistics so we never underestimate their value.
The TikTok case:
With over 2 billion downloads, TikTok is one of the hottest social media platforms, and brands of all shapes and sizes are starting to sit up and take notice. Check out the most important TikTok stats:
TikTok has been downloaded over 2 billion times

TikTok users spend 45 minutes on the app on average



At an average of 45 minutes spent on the app per day, TikTok ranks pretty high among time spent on social media platforms. For comparison, U.S. Android users spend 53 minutes on Instagram, 58 minutes on Facebook, and 49.5 minutes on Snapchat.
A recent report surveyed children 4-15-years old during the peak of the U.S. quarantine (March 15 – April) and found users in this young age group spent nearly 86 minutes watching TikTok videos daily.
TikTok users open the app 8 times every day on average

TikTok gained more users in one month than Instagram gained in any 2019 quarter

TikTok installs are up 96% year-over-year

TikTok's 800 million MAUs (Monthly Active Users) surpasses LinkedIn, Reddit, Snapchat, Twitter, and Pinterest

TikTok's monthly engagement rate is over 70%

Over 63% of TikTok users are between the ages of 10 and 29

Females on TikTok outnumber males nearly 2:1 in the U.S.

3x the number of U.S. users 18+ downloaded TikTok in April vs. last year

Over $456 million have been spent buying coins on TikTok

The top 50 TikTok influencers have more followers than 16% of the world's population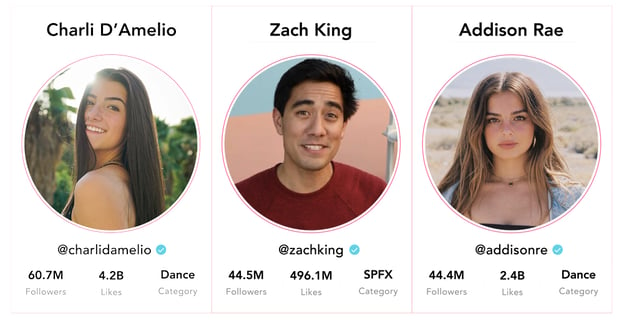 TikTok is the only top 5 social media app not owned by Facebook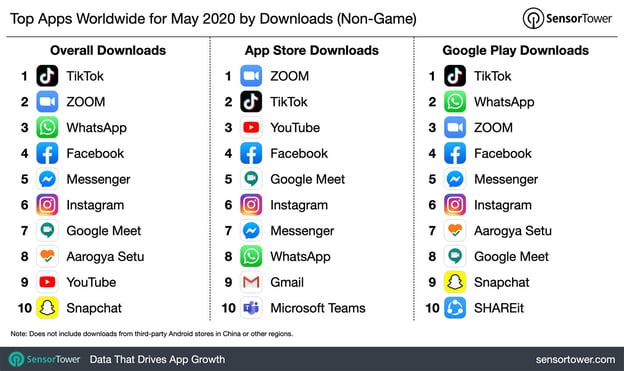 Nearly 80% of TikTok sessions are from Android users

TikTok is available in 155 countries and 75 languages

India, contributing over 30% of TikTok downloads, is a huge driver of the app's growth

Over 30% of all U.S. TikTok users are adolescents
While TikTok is on the rise, the number of brands and businesses strategically using the platform to their advantage is still relatively low.
So if you haven't thought about creating a TikTok account yet, now's the time to start experimenting and get some early-bird access to a social platform that's only growing in popularity!
P.S.: If you are targeting Gen Z as your audience, then TikTok is your go-to platform!
We are proud to announce that Opium Works is one of the few agencies to join the TikTok Partner Program. Click here to and let's Tik-Talk 🤘
Source: https://www.businessofapps.com/data/tik-tok-statistics/