Text and Aspect Ratios on Mobile News Feed to be changed by August 19th, 2019
Change is here!! You all remember the very promising changes announced by Mr Mark Zuckerberg earlier in the year that will affect & change how we interact and use Facebook.
This August, page posts and ads will change the way they look on mobile. The changes will match the look and feel of the NEW Facebook design that introduced a while ago by the CEO of FB, Mr Mark Z.
Updates for mobile News Feed:
Text Changes: Fewer lines of primary text will show on mobile News Feed.
Now only 3 lines of primary text will show on Facebook mobile News Feed. If people want to learn/read more they will be prompted to click to view additional text.
Visual Changes: Maximum the media height to 4:5
The tallest supported aspect ratio for images without links and for videos is now vertical (4:5).
Media taller than 4:5 will be masked on Facebook mobile News Feed.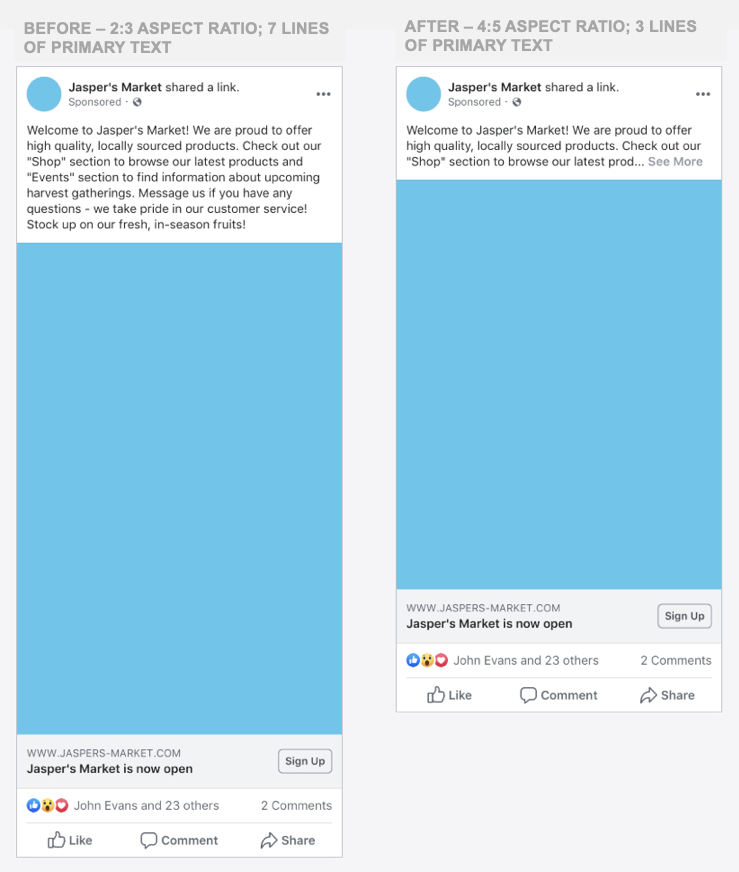 The changes to text, photos and videos are designed to simplify our formats and improve the consistency of our mobile experience.
This will help drive expanded promotion viability and make it simpler to utilize similar resources on Facebook News Feed and Instagram channel.
Picking the correct angle proportion when you make an advertisement is essential to ensure it shows well on the two telephones and PCs. Angle proportions are likewise significant in guaranteeing your promotion conveys crosswise over situations and arrangements.
How to find out the aspect ratio of your image:
For feed placements: We recommend square 1:1 for images and vertical 4:5 for videos.


For stories placements: Most people hold their phones vertically so we recommend full screen vertical 9:16 to capture the whole screen.


For video carousel format: We recommend square 1:1 and consistent ratios for all videos in a carousel.


For in-stream video: We recommend full screen horizontal 16:9 to fit the videos the ads are in.


Audience Network placements: We recommend full screen vertical 9:16, except for Audience Network in-stream videos for which we recommend full screen horizontal 16:9.

If you want to adjust your image aspect ratio, you can either use Photoshop or another editing tool and upload it again, or use the cropping tools in Ads Manager.
When you create ads for mobile, images and videos should cover as much screen as possible to grab attention. Choose an aspect ratio that best suits different placements and formats and remember to check which placements support which aspect ratios.
source: https://www.facebook.com/business/help/2072491112815612