When it comes to audience data strategies data access, identity resolution and the utilization of these insights into action are only a few of the struggles that marketers face nowadays, according to Nielsen's 2022 Global Annual Marketing Report.
All audience data gathered are useful and are overall a key to understanding the customers' behaviour, however, the great shifts in the media landscape have proved to be a great obstacle to marketers who seek to gather these data, analyse them and use them to their benefit. All these data have proved to be a key to creating a future-oriented data strategy when using an always-on prioritization and continuous optimization.
What do marketing experts say?
According to Nielsen's 2022 Global Annual Marketing Report, only a small percentage of just 26% of the marketers around the world are 100% confident that they have access to the high-quality audience data they need that will help them make the most out of their budget.
In order to make sure that they reach the right audience with the appropriate message, marketers need to fully understand the customers that are behind each engagement. After all, each digital channel has a very different data set than others as well as a different way of targeting audiences.
According to Emma Delserieys, vice-president at Nielsen, marketers' often biggest mistake is using the wrong solutions or even giving up on the benefit of better accuracy that analytic data provide, which would lead them to greater results.
Moreover, Emma suggests the optimum way to prepare for the future is "a proactive approach to first-party data curation". Additionally, marketers should focus on connecting with their audience with the primary goal of gaining their trust and being the safe-keepers of their data. After accessing these data, marketers need to find a way of leveraging the accuracy of the information - whether we are talking about first-party or granular level data.
The primary issue is that individual marketing campaigns don't have only one KPI, but rather a variety of quantifiable measures of performance, which make it extra challenging to align everything and create a single data strategy.
Data from Nielsen show that targeting the right audience plays a crucial role in improving campaign performance, as do the creative of the ad, audience reach and the quality of the data. An approach where the above-mentioned are defined once and are activated everywhere won't deliver the best campaign results.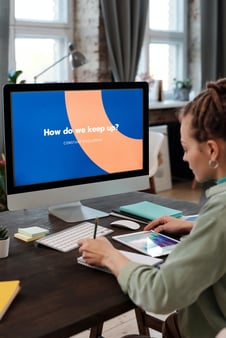 Tips on how to improve performance using audience targeting
In order to provide personalized and relevant experiences to the audience, marketers need to make the shift from a 'we' to 'me' mindset. Overall there are three important tips that marketers need to take into account when aiming to improve performance using better audience targeting:
Personalize at scale and leverage both contextual and behavioural data.
Identify who is viewing which program in real-time in every household.
Constantly optimize your data strategies to match campaign KPIs.
First-party or third-party data?
First-party data is slowly becoming what marketers need to rely on since third-party cookie depreciation is closer than ever. There is a clear new requirement for marketers in today's challenging environment to prioritize the data strategies while investing in first-party data. Companies that are not able to collect data directly from customers can benefit from available data partners that gather customized, quality data. By trusting these partners they can ensure always-on prioritization and enhance their audience targeting and general performance of their campaigns.
Conclusion
Overall, this marketing identity crisis has proved that using data collected to identify exact customers and their behaviour is essential to boost engagement throughout the customer's journey.
Finally, as identity solutions are being developed many marketers will turn to contextual targeting solutions in order to advance in a world without cookies. They will need to maximise their audience data with additional behavioural data sets and understand which are the touch points that will lead them to their expected results. After all, studies show that behavioural data that are based on actual people's actions deliver greater performance and combining accuracy and personalization at scale will deliver the highest ROI.


Reference:
https://www.thedrum.com/news/2022/06/23/marketing-s-identity-crisis-why-it-s-time-sharpen-your-data-strategy-the-future