Hashtags are not a new trend. Actually, by now, anyone that is using social media platforms should know that they are used as an added element of attraction!
But, if you're a business, how can you use hashtags the right way to attract mor
e and more of an audience?
Social media platforms are flooded with content. It is extremely difficult for brands, marketers or influencers to get their content noticed, let alone stand out.
Hashtags can do this for you! There are seven different tactics to boost your social media marketing with the super-power of hashtags.
A basic and simple tactic that can be found useful for local business or anyone that wants to attract local attention.
For example, if you use #DownTownNicosia or #NicosiaOldTown for a place, shop or any relevant attraction that can be found in Downtown Nicosia, you will automatically appear on the search feed of the specific area.
Creating a campaign or branded hashtag will help you distinguish your content and let people know that it is your brand's content. Branded hashtags could include your brand name, a tagline, product or service name or even your campaign's name.
e.g. #PralinaExperience , #MitsidesCyprus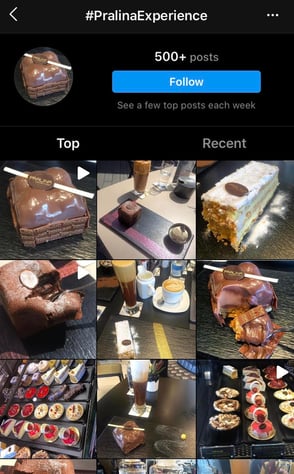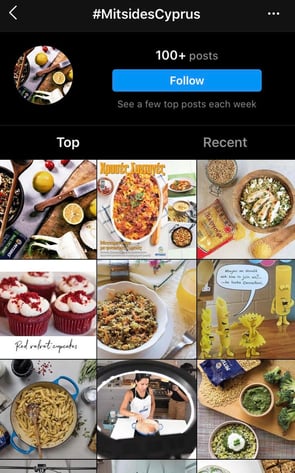 Hashtags that help your content to be featured on explore tab topics
On Instagram's explore tab, you can find content by topics or categories. These include food, travel, style, beauty, decor, DIY, etc. The top categories shown, differ from user to user and are based on their online behaviour, likes and preferences.
If you would like to be featured on these categories, then you should use hashtags based around these categories.
The only thing you need to do is simply browse through the top content of your category and see what hashtags come up for your desired or chosen category.
Begin a challenge with hashtags
Challenges are very popular on social media and they tend to go viral! Hashtags aid this process and help you promote your challenge and make it reach a wider audience.
Find the challenge that matches your brand and start promoting it!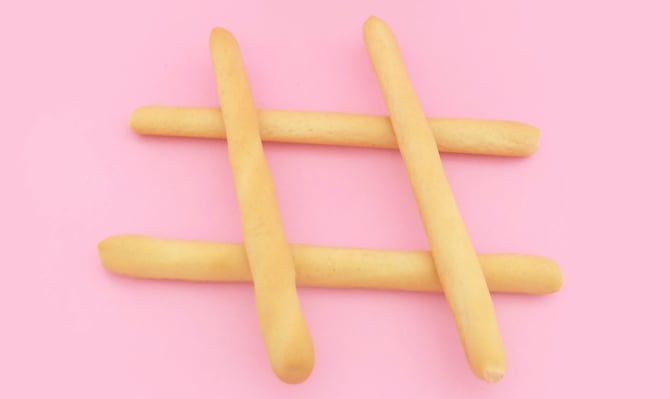 Simple, yet with visible results, using trending hashtags is a marketing tactic that any marketer should use frequently. A classic example: a food blogger or a restaurant can use the hashtags #InstaFood and/or #FoodPics. These hashtags have millions of followers and anyone using them can increase their content's reach immediately.
However, you cannot use only trending hashtags as your content will get lost in a 'sea' of millions of posts. Trending hashtags should be used in a combination with other hashtags or niche hashtags that will narrow your audience making it more targeted.
Niche hashtags, as mentioned above, are pretty similar to trending hashtags, however, are popular within a small community.
For example, during trending hashtags we mentioned #InstaFood and #FoodPics. But this is really generic. If you are a food blogger and you specialized on food content and food recipes for people who cook at home then you can add the hashtag #HomeRecipes.
This hashtag might have a smaller audience than the trending ones but people who follow this are looking for exactly what you have to offer. These people have a higher chance of following you and engaging with your content in the long term.
Hashtags to gain UGC (User Generated Content)
A special mention in our list are the Hashtags that are created in order to call for UGC. The creation of the hashtag is an easy-peasy situation; as long as you create a unique hashtag that is not used by any other brand or account.
After that you can "invite" users on social media to share their content that is related to your brand, accompanying your hashtag!
But wait! Be really careful.
Hashtags are useful on Twitter and Instagram! Hashtagging on Twitter can have a major impact when it comes to your follower count by using general and non-specific hashtags. Similar to Twitter, using hashtags on Instagram can help you engage with more than just your followers. Hashtags on Instagram can help you gain organic reach!
However, hashtags do not always work on Facebook and LinkedIn. On LinkedIn hashtags are not supported by the platform and in terms of Facebook. It is noticed that posts without a hashtag might perform better than a post that contains hashtags as they do not pose any substantial benefit.
Choose wisely how and when to use your hashtags!
Need help planning your social media strategy?
We're hashtag pros ;)
Reach out by clicking here.
#StayPositive guys and #KeepRocking
Sources: