Amidst the kaleidoscope of international holidays and celebrations that we look out for on our calendars, there's one that unites a rather large part of the population: International Beer Day! From casual drinkers to enthusiasts and connoisseurs, beer marks a joyous occasion that transcends borders, languages and customs.
Beyond just cheering and clinking bottles, beer companies have emerged with a digital phenomenon in recent years that has catapulted the popularity of brands and led to some immensely creative campaigns and advertisements that traverse continents and invite audiences on a chillingly virtual tasting journey. The digital landscape has brewed a great amount of innovative and refreshing explorations of enticing audiences to relax with a beer at hand, with mind-blowing collaborations, inventive ads and interactive experiences.
So, let's raise our glasses and give a toast to some of our favourite international digital campaigns.
Budweiser - Wassup
Talk about a viral sensation. The 'Wassup' ad by Budweiser needs no introduction, as it remains a classic in the advertising world and a cultural phenomenon that remains relevant and recognisable until today. Once launched, it went on to captivate audiences around the world with its simplistic, yet humorous approach, and the catchphrase went on to become an integral part of the social culture of the early 2000s, with people using it in their daily lives.

Corona x Duolingo - Hard Seltzer Limonada
This inventive collaboration between Corona and Duolingo took over the Las Vegas Strip, with passersby stopping at a voice-activated vending machine that requested consumers to ask for the new, refreshing beverage in Spanish. The brand threw it back to its Mexican roots, in an attempt to embrace authenticity to drive sales for its latest product, while casting a fun and immersive experience for the audience. Duolingo, as a top-grossing language app, was an ideal partnership in garnering great exposure, appealing to audiences of all ages and interests, utilising gamified content and providing intriguing incentives. For example, if a person gave the correct pronunciation, they got a sample of Corona's new products, whereas if their effort was not sufficient, the consumer got a free month-long subscription to Duolingo Plus, in order to improve their Spanish.

Oskar Blues Brewery x French's - Mustard Beer
So, mustard beer exists, evidently. But it's these kinds of quirky, unexpected and out-of-the-box collaborations that speak to the creative nature of advertising, and the open-ended identity of beer companies.. As peculiar as a mustard beer may sound, it provided an adventurous, original and memorable flavour experience with the limited-edition product. Oskar Blues Brewery is not one to shy away from a challenge and bold movements, and the uniqueness of the collaboration managed to generate a lot of buzz and curiosity.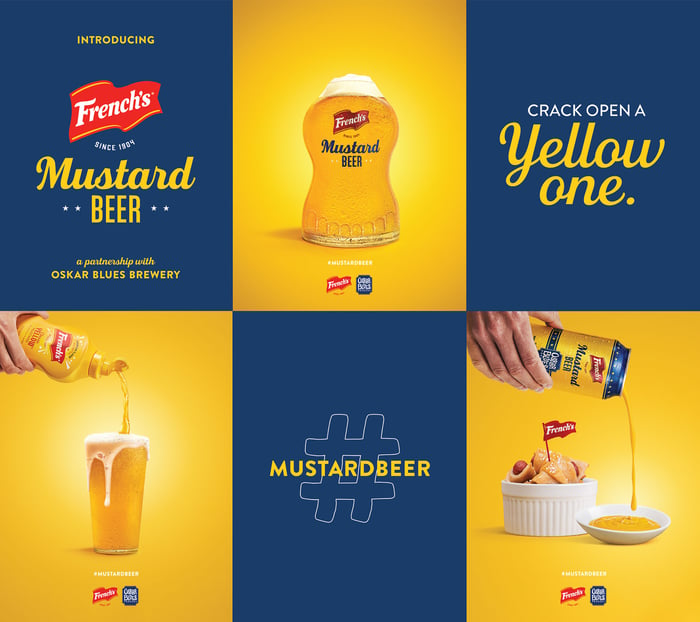 Fernson Brewing Company - Skip Day
With a dedicated website to the new product launch, Fernson Brewing Company created an entire light-hearted concept that would be associated with its first hard seltzer. With flat, vibrant and matte colours for the cans and advertising, which differentiated the brand from traditional hard seltzer products, the launch campaign was able to stand out by creating a completely unique brand identity. The name 'Skip Day', served as a gentle reminder to take a break in today's fast-paced world, while the new product keeps you company in any occasion.
Buckler Beer - Typography Ads
Buckler Beer is a non-alcoholic beer brand that successfully plays on the idea of being a safe alternative beverage option for beer drinkers. In a humorous and effective set of typography ads, the brand featured silhouettes of beer glasses with sentences that we've all said once or twice when intoxicated, making them highly relatable and also differentiating the brand in an engaging way. The witty and interactive elements of the ads created a memorable experience for audiences and highlighted their unique values in a characteristically innovative way.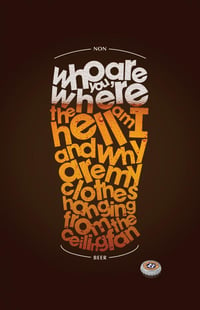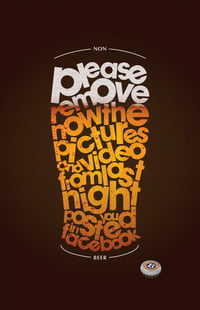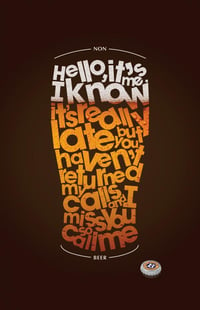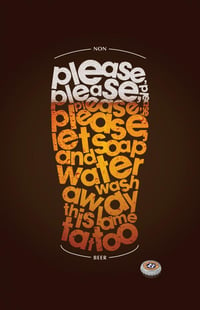 Carlsberg

Carlsberg needs no introduction, as its abundance of highly successful advertisements and memorable digital and offline activations, have granted it as probably one of the best beer brands in the world. With its slogan 'Probably the best beer in the world' being one of the most iconic in the advertising world, it has managed to establish a rather distinct brand identity that seeks to tap into universal experiences and connections that appeal to a wide audience.

With innovation, authenticity, wit, humour and experiential marketing, there's a boundless list of Carlsberg campaigns to choose from, so here's a couple to inspire you for now: