SEO is something that we all heard about at least once in our daily lives. But what is SEO and why is something that you must know?
Well SEO stands for Search Engine Optimization and it's the process of optimizing your website in order to be more appealing to search engines. When people are searching for something relevant to it, then SEO gives the website more organic traffic by placing it higher in their rankings. For example, Google gives a grading score to websites based on their content speed and relevance. Basically search engines try to present the best results of what the user is searching for, but in order to do that they first have to pass through this evaluation.
So why is SEO important?
Well in this era we are living in, everyone that wants to find something, the first thing he/she would do is to search for it online. How? By using search engines like Google Search. If a website is ranked highly it would have better chances of gaining organic traffic (Gaining website visitors without paying for an ad). Furthermore, by optimizing a website it's easier for users to find it and it improves the interaction they will have with it, since it would be relevant to them it would have helpful content and will be fast, making it easier to use.
As we prepare to enter a new year, lets see the 4 major reasons to use SEO in 2022:
Gain traffic without paying
Of course the number one reason to use SEO is to gain organic traffic, meaning that you gain a path for users to visit your site by appearing on top of search results, without investing money weekly, monthly or yearly.
Credibility
When you are searching for something and you do a Google Search why are you checking only the first results? Might it be because you feel more secure browsing the top results? This is the reality. The fact that these websites are appearing first, it increases their credibility and it automatically becomes trustworthy.
Improves website usability
As we mentioned earlier, the variables that search engines take into account are the same variables that can make a website easy to use and very helpful to users. It's like you gain an extra advantage by one action. The most important thing that a website needs is a volume of website visitors. Particularly, to keep the visitors coming back but also recommend it to others, as these visitors need to have a positive experience when interacting with it. By using SEO you can manage this with great ease. Another sub-benefit is that with SEO you can create user pathways on your website that will lead to conversions. A significant part of SEO is Backlinks, which are links that lead to other landing pages within your website. A successful pathway has to always lead the user towards conversions whatever that may be (purchase - online shops / lead - lawyers/accountants etc.)
Maximize PPC Campaigns
Having your website appear on the top of results for two times in one search (with paid campaigns like Google Search Ads / organically with SEO), it makes your website look like you are not just throwing money hoping to get results, but you went through the steps instead to have an optimized website that appears on the top organically. Just by statistics alone, the chances of a user visiting your website shift vastly on your side. For example, look below what you get when you search the term 'Opium Works'.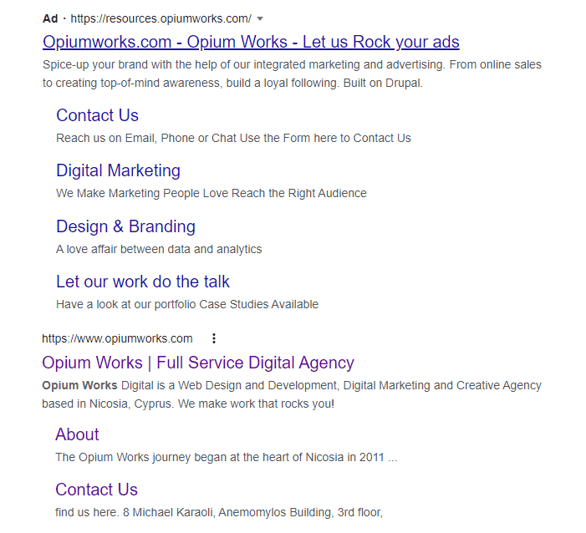 To Sum Up
There are many advertising tools that can be used to drive website visitors. But with SEO you gain more than website visitors. First of all, acquiring website visitors will not cost anything to you, secondly the website will gain a certain prestige status by appearing in the first results organically, making it more trustworthy and credible. Last but not least, the overall experience users will have with your website will be more positive. The importance of SEO is continuously growing and will continue to grow in the future as new large technological discoveries such as voice search, and the integration of Artificial Intelligence to search engines are being invented.
SEO will open new doors for your website and your business in general. Don't miss out!
Don't know how to implement SEO in your strategy plan? Let us help.
Sources: