---
With traditional marketing you were able to place ads in industry magazines, send cold emails and use telemarketing spending a generous amount of money without being able to see and analyze any results. Note that only big companies with large marketing budgets could have a solid traditional marketing campaign.
Technology and specifically social networks nowadays allow you to gather all your customers and prospects in one place and keep them engaged. When used correctly, Social Networks can tremendously improve the volume of customers and prospects.
There are many social networks that are improving B2B social media marketing solutions, the following are the most popular:
Twitter
Facebook
YouTube
Linkedin
Pinterest
Google+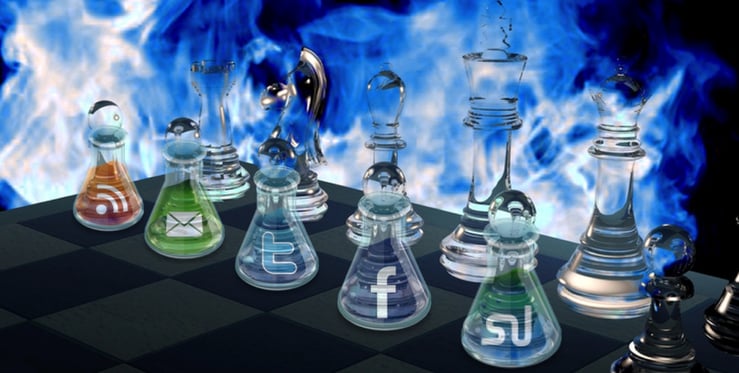 Follow these basic guidelines to initiate your social media strategy:
#1 Your Employees advice
Show that you trust your employees by letting them address an issue through a social media post. In this way you can post more consistently and also make your business more approachable. In this way you can show to the world how valuable are your employees to you and increase brand loyalty.
#2 Track your competitors
In business, you always need to be informed about what your competitors are doing.You can start by monitoring social posts through a social media monitoring tool and track keywords. In this way you can find do's and dont's and update your tactics.
When you finish your research you will most probably reveal the following indications:
Viral hashtags related to your business field

Most engaging posts

Influential people who interact with your competitors
Doing your research every week can help you determine your exact topics, post types and audience but most importantly it can help you maintain your stellar online presence.
#3 Buyer Personas is a key
Ever wondered who are your ideal customers? By figuring out a fictional, generalized representation of your ideal customer you can create your buyer persona. Now that you figured out who are these customers try understanding their specific needs, behaviors and concerns.
Separate your personas by:
Depending on your business size, you could create as few as one persona or as many as 15.
#4 Boost your ads
Organic reach can be really "poor" at times so why not try and boost your posts throughout the different social networks your business use.
Create different ad groups that target different ages and even different behaviours based on the buyer personas you've come up with. Segmentations that are based on job status can be one of the most useful targeting criteria.
---
---