---
Social Media is about Content .... and even more Content
Admit it, you spend most of your time on Social Media, consuming content.
Blogs, images, infographics, videos, gifs, jokes, documentaries, mockumentaries, new video clips. Content comes in so many types and forms you couldn't even list them if you tried. How is this relevant? If you want your business to stay above the radar and be in touch with your consumers, you need to produce content and distribute this to your followers.
Today we're discussing User Generated Content, or Content that is generated from Consumers regarding a specific brand. Here are 7 User Generated Content Campaigns to feast at from around the world:
Three - 'Create Your Own Pony':
UK's Three had a very successful advert utilizing a dancing pony! Yes that's right.
They then called on their followers to create their own dancing ponies.
1.5 Million ponies were created, the original advert was viewed over 111m times, with 65% of the UK Population seeing the ad or content at least once. Amazingly 95% of all content generated from this campaign was re-shared

Nintendo - 'Super Mario Maker':
You know Super Mario, you've played Super Mario, but you never created your own Super Mario. And this is what Nintendo let you do. To exactly create your own Super Mario levels. And this was a huge hits. Just one video of the game YouTube Gaming start Created, ranked up 10 million views
Starbucks – 'White Cup Contest':
In 2014, Starbucks invited people to decorate their cups. The results were immense
Mark up your Macchiato, doodle on your doppio, craft your cappuccino. #WhiteCupContest http://t.co/IRoNiMKMXU pic.twitter.com/pgw0Wbu3ZN

— Starbucks Coffee (@Starbucks) April 28, 2014
They received about 4,000 entries resulting in a HUGE amount of Social Media Buzz. The winner of the competition really outperformed herself.
Starbucks Announces the Winner of its #WhiteCupContest http://t.co/1lN5g95T8T Congrats Brita! pic.twitter.com/6i2CE1D8w0

— Starbucks News (@Starbucksnews) June 19, 2014
Three – #SingItKitty
Same concept as Dancing Pony, this time Three invited customers to create a variation of their #SingItKitty campaign. As you can tell, placing your friend's face on the advert and having a laugh together, is definitely shareable grade A stuff!
Lowe's – #FanFixInSix
USA's Giant Megastore took to Vine to share home improvement tips in 6 second Vine Clips. It then invited users to give out their own Tips & Tricks
Not only was this a success Marketing wise, great ideas came out of this
Doritos – #BurnSelfie
Doritos launched a new product. A very Spicy new Product. Of course there is only one way to go here. Send us your Burn Selfies, :)
Guess who got the hot chip? 2nd chip into the bag of @DoritosCanada Roulette. #burnselfie pic.twitter.com/WbmtEtcJLf

— Dennis & May Pang (@Pangcouver) July 5, 2014
@DoritosCanada No Better Way In Spending Canada Day Then With A Bag Of Doritos Roulette #BurnSelfie pic.twitter.com/jH3Bz9tlfR

— Kristen Visser (@krishabv) July 1, 2014
@DoritosCanada My #BurnSelfie entry..... Trying to put the fire out without getting caught!!! pic.twitter.com/PwHuSaCVga

— Jennifer Laking (@JenniferLaking) July 1, 2014
Burger King Cyprus - Spot The Bus
We wouldn't be a solid Digital Agency if we didn't promote our work. One of the most successful User Generated Activities we did recently was with the Launch of new Burger King stores in Cyprus. Indeed Burger King dressep up busses in Nicosia, Larnaca and Paphos and we invited our guests to Spot them & Win. Here are some great and creative examples of the content created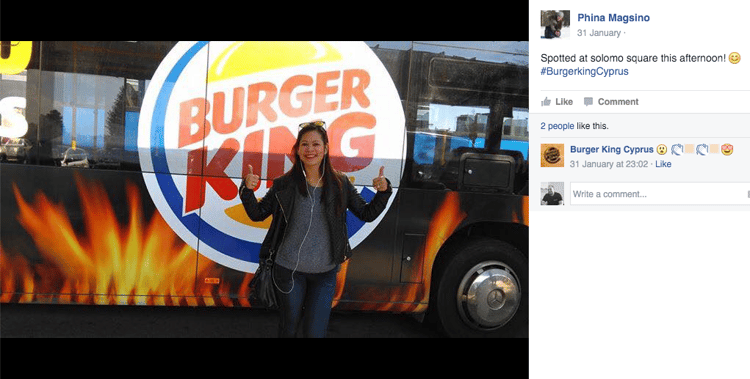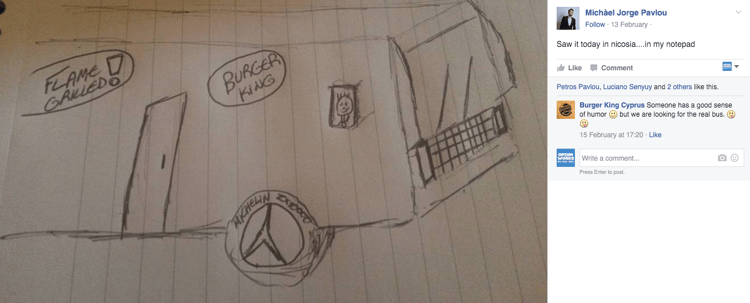 CONCLUSION:
Now it's time to say goodbye and wrap up your traditional ways. Digital Marketing is here, and it revolutionizes your business. Come with us and let's create together.
---