The moment you've all been waiting for is here. Well, that is if you have read the App up and away - Part I.
Given that you have set everything up, let's dive into what we can see from the data that will be gathered.
Funnels & Audiences
A funnel or user journey is one of the primary activities we must understand when creating a strategy for any app promotion. Having said this, we must be able to track down where the users came from and what activities they performed. This will allow us to understand what works and eliminate what does not.
Let's take the e-commerce application for example:
A logical flow would be the following:
Opening the app
Visiting a Category Page
Visiting a Product Page
Adding to basket
Check out
Add address
Add Payment Method
Confirmation
This funnel will allow us to track down where the user leaves the app and be able to act accordingly. More than one funnel can be implemented.
Having all the activities in one place, allows us to segment our audience as well.
By segmenting users you are able to create different campaigns and activities to increase your conversions or any other goals you have set for your app.
Continuing with the e-commerce example, we decided to segment the users based on the orders they placed.
As per the example you see here, Casual users have placed an order once, whereas Loyal users placed more than five orders.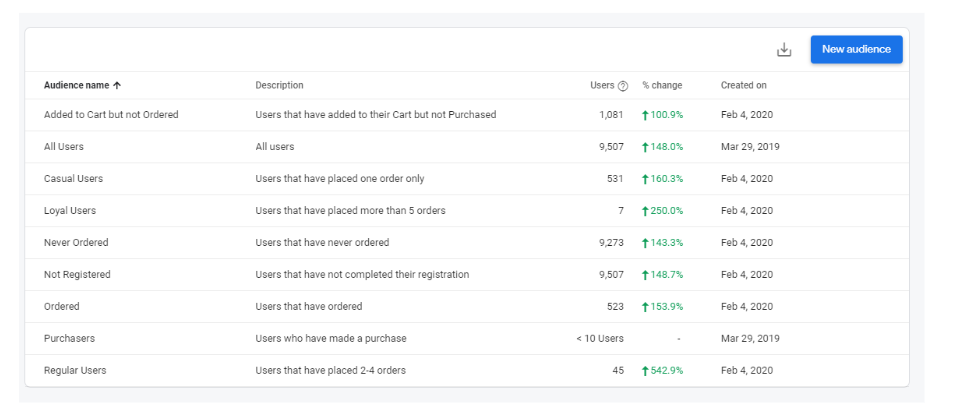 If we were to have a campaign for Casual users, where our goal would have been to make them order again, we would send them a coupon for their next purchase. A possible communication message would have been: "We've missed you, here is a 20% coupon for your next order". This will activate them.
For the Loyal users, we can have the same coupon, but this time we will present it as a reward for their loyalty.
In addition to the above, once we have these data, we can create lookalike audiences, with similar behaviour and target our ads to a new yet closer to our target audience.
Real time Monitoring
The Data Studio can be our real time monitoring platform. We are able to connect all ads and tools we will be using so we have a centralised platform to monitor the performance of the ads.
Usually the data studio consists of three main parts.
One is the snapshot of all the activities as a whole and another is a more in-depth analysis of the campaigns, based on the different activities or channels we are utilizing.
User Monitoring and Real Time overview of the users behaviour is also a part of the available features we can use.
The last part is vital for new launches and for real time testing of any product or user behaviour related hypothesis.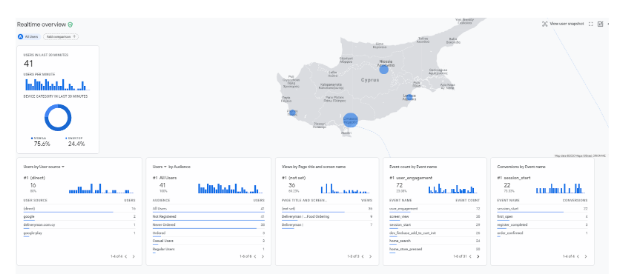 Real time Monitoring - Users
Real time monitoring offers a variety of options.
In the screenshots below you can see some of these options:
Users in last 30 minutes
Users filtered by Audience
Users based on their behaviour
Pages active (page name)
Events x Conversions
Users by source
At any given time, the user of the dashboard can segment the data that is visible to them with up to five filters (Source, Audience, Demographics etc.) and get the real-time results.
Lastly, there is a heat map with the most active users per location.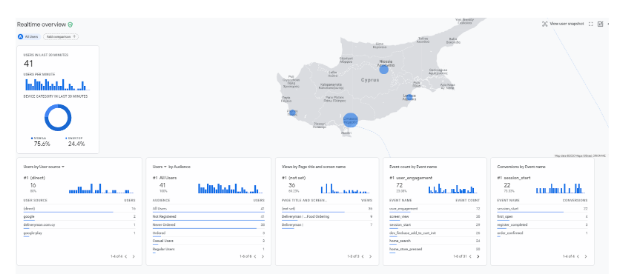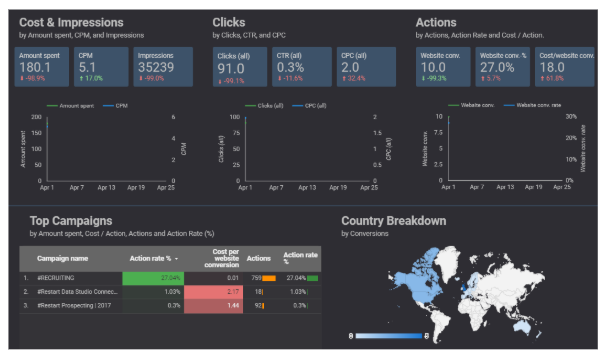 These are the first steps towards a successful app campaign. At Opium Works we have been running App related campaigns in more than 24 countries for our clients. Learn more about what we can do for you by completing the form below.